United Kingdom: We've been too squeamish on migration, says Suella Braverman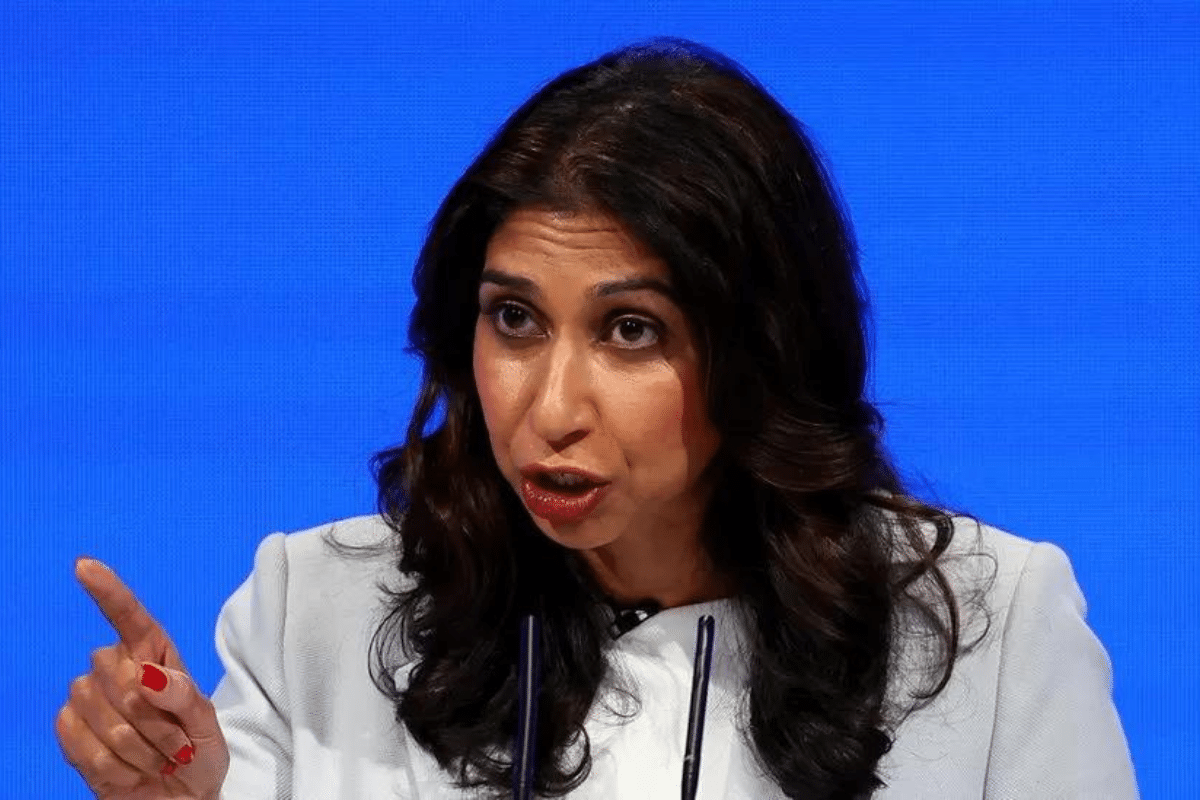 Source: bbc.com
Published: 3 October 2023
Suella Braverman has said politicians have been "too squeamish" to take action on immigration, in a hard-hitting Conservative conference speech.
In an address to party activists, the home secretary said moving to a richer country had become a "realistic prospect" for "billions of people".
She also said a "hurricane" of migration is coming to the UK.
Two MPs from a different wing of the Tory party queried her comments, with one saying they weren't helpful.
To a packed conference hall, Ms Braverman promised to do "whatever it takes" to stop small boat crossings, adding immigration was "already too high".
The home secretary's speech was big on room-rousing rhetoric but lighter on new policy.
For most of her speech though, she appeared to relish her self-proclaimed role as someone who tells it as she sees it.
She drew cheers for announcing the government would soon start closing asylum hotels.
And she told the conference that politicians had failed to properly manage migration, and had been "far too squeamish about being smeared as racists".
"Unprecedented" migration, she added, was "one of the most powerful reshaping our world".
"The wind of change that carried my own parents across the globe in the 20th Century was a mere gust compared to the hurricane that is coming.
"Because today, the option of moving from a poorer country to a richer one is not just a dream for billions of people, it is an entirely realistic prospect."
Last year, over 81,130 applications were made for asylum in the UK, while 1.2 million people migrated into the UK.
With 557,000 people emigrating from the country, leaving a net migration figure of 606,000.
Ms Braverman will have deliberately chosen provocative language for her keynote conference speech.
Her description of potential migration as a coming "hurricane" is likely to draw particular criticism, including from Labour and those who disagreed with her recent speech to a US think tank, in which she questioned whether the application of the UN's 1951 Refugee Convention is "fit for our modern age".
Addressing the American Enterprise Institute, she warned that countries faced an "existential" threat unless they were able to control their borders.
Former justice secretary Robert Buckland said politicians needed to be responsible about language, saying: "I think talking about hurricanes or weather extremes isn't helpful unless you explain the why.
"We know what's happening in the world, with climate change, with war in the sub-Saharan part of Africa – we are seeing mass movements of population, there is no doubt about that.
"But we need to talk about the why before we start using alarmist language. Let's do so in a way that really understands the breadth of the problem."
Another Conservative MP, Alicia Kearns, said: "I recognise there are legitimate concerns but I think we have to be very careful we don't create a situation where we are either demonising minorities or those who are vulnerable."
Speaking shortly before Ms Braverman, Justice Secretary Alex Chalk announced that the government would explore options to to rent out prison spaces in foreign countries for prisoners who cannot be accommodated in UK prisons.
Heckler expelled from hall
The speech also saw a fellow Tory politician kicked out of the conference hall for heckling her, after she described "gender ideology" as "poison".
Andrew Boff, a Conservative member of the London Assembly, was filmed describing the comments as "trash", before being escorted out of the conference hall by security.
The incident came during a section of the speech in which she said that "gender ideology, white privilege, anti-British history" had become "embedded" in corporate Britain and parts of the public sector.
Speaking to the BBC after being removed, Mr Boff, a patron of the LGBT+ Conservative group, called her comments "disgusting", adding he hoped they don't "become part of the rhetoric" in the run-up to the next general election.
Mr Buckland has since said Mr Boff has had his conference pass removed – but the home secretary has called for him to be "forgiven and let back into conference".
Mr Buckland questioned the security response, adding he hoped the situation could be resolved.