From Response to Recovery: Antigua and Barbuda Prepares its Post-Pandemic Economy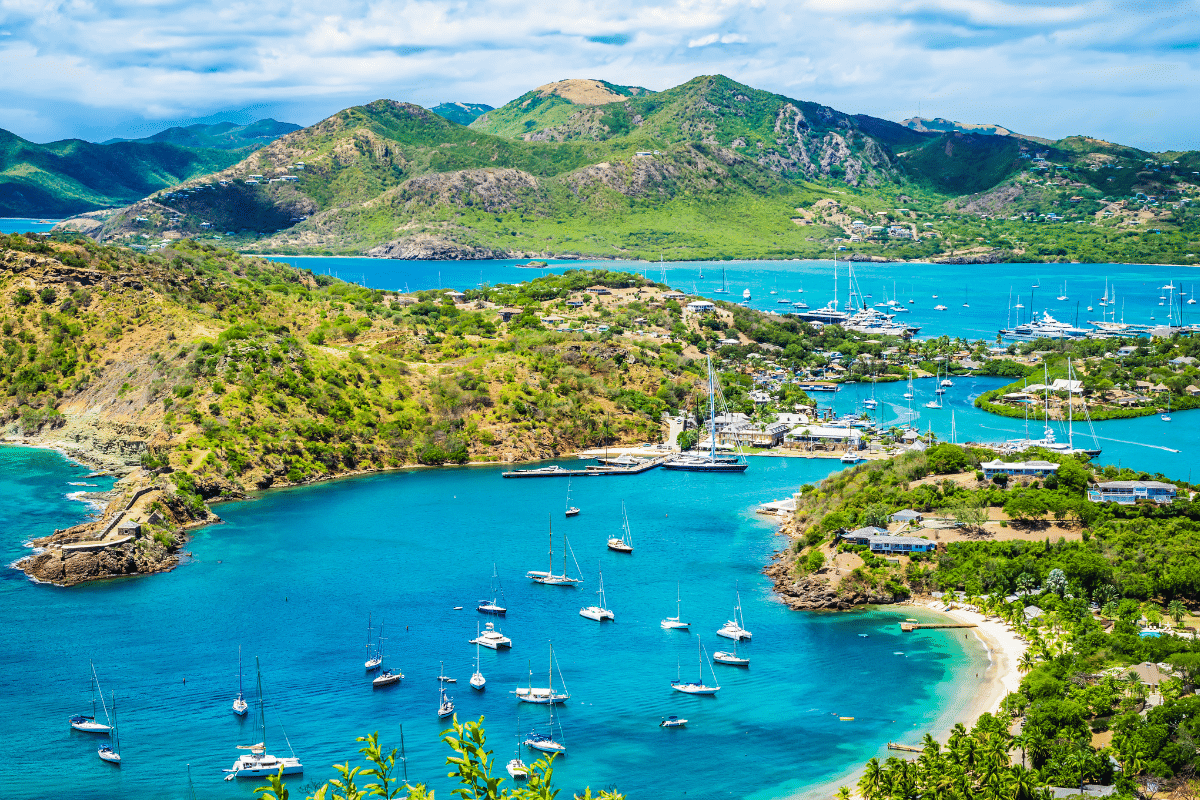 Special feature: Antigua & Barbuda
The outlook for sunny Antigua and Barbuda has become cloudy due to the outbreak of Covid-19, but the Caribbean island nation is determined to make the most out of new opportunities. Its citizenship-by-investment programme is going to play a key role in defining what the country is going to look like in 2021 and beyond.
Antigua and Barbuda is no stranger to crisis and knows what it takes to rebound. From the region's economic and debt crises in 2013 to Hurricane Irma in 2017, Antigua has always found a way to rally back. Its citizenship-by-investment programme (CIP) has been an important tool to drive the economy forward, and the expectation is that it will help the twin island nation recover from the economic fallout of the Covid-19 pandemic much faster than many other countries in the world. Like most of its Caribbean neighbours, Antigua and Barbuda relies heavily on tourism, leaving it particularly exposed to the side effects of the pandemic. But there's a feeling that this crisis creates an opportunity to diversify the country's economy – new activities in sectors such as blockchain and medical cannabis are being encouraged. Meanwhile, Antigua and Barbuda aims to strengthen its image as a safe and sophisticated destination to live, work and invest in. The country managed the coronavirus outbreak well and appears to have limited its spread. This makes it attractive for high-net-worth-individuals looking for a base away from the global, but often crowded, megacities. The Caribbean country responded quickly to new trends in the RCBI world. It was among the first countries globally to introduce a nomad visa and will shortly accept payments for its CIP in cryptocurrencies. Initiatives such as these are fuelling hope that the dual island nation can achieve what many other countries think is impossible: return to growth in 2021.
Beauty and Beaches
Positioned where the Atlantic and Caribbean meet, Antigua and Barbuda consist of two major inhabited islands, Antigua and Barbuda, and a number of smaller islands. St. John on Antigua is the capital city. The country is home to close to 100,000 people, with the majority living on Antigua after Hurricane Irma destroyed most of Barbuda and forced its residents to relocate. A former British colony, Antigua and Barbuda gained independence in 1981 and joined the Commonwealth. Locals often call their country 'Land of 365 Beaches' and are quick to point out that there is a different beach for each day of the year. With beauty and beaches in abundance, it comes as no surprise that tourism is a key driver of GDP, generating around 70% of the island's income, but this over-reliance has also been the country's greatest economic weakness for decades.
CIP Introduction
Some ten years ago, Antigua and Barbuda experienced an unprecedented economic slowdown after its tourism industry was battling the fallout from the 2008 financial crisis. The country had no choice but to enter an International Monetary Fund Programme in 2010 that would keep the economy afloat for the three years that followed. When it became increasingly challenging to restructure the country's debts and access other funding sources, Antigua and Barbuda looked for alternative revenue streams and established a citizenship-by-investment programme in late 2013. Although initially it was not unanimously supported, the CIP is today widely seen as beneficial to the country. After the financial crisis, it helped to restore stability during the economic slowdown, says Gaston Browne, Antigua and Barbuda's Prime Minister who promoted the CIP's introduction. He adds that it was also of great importance when Hurricane Irma hit the country in 2017. The impact on Barbuda was particularly severe. More than 80% of Barbuda's buildings were destroyed or severely damaged, and the island was deemed uninhabitable. CIP funds were used to re-build critical infrastructure.
Funding in Times of Crisis
Since 2013, the Citizenship by Investment Unit (CIU) has received more than 2,200 applications from more than 80 countries; five percent of applications have been rejected. It accounts for around 15% of government revenue and remains a vital source of funding in times of crisis. When tourism came to a standstill as a result of Covid-19, the CIP "helped us significantly to fulfil our socio-economic obligations, otherwise we may have defaulted," admits Prime Minister Browne. Besides tourism, construction plays a major role in Barbuda's economic mix, accounting for 15% of GDP. Thus far, the sector is ploughing ahead and has not been affected particularly by the pandemic. Large infrastructure projects – the construction of a cargo port facility and a new cruise terminal – helped to keep people in employment and somewhat cushion the Covid-19 impact. Nonetheless, the island's GDP is expected to contract by around 10% in 2020, and there is widespread agreement that the CIP is today more important than ever for the economic development of the country.
Pandemic Management
Antigua and Barbuda has won praise for its effective response to the coronavirus pandemic. Until the end of August, Antigua and Barbuda confirmed a total of 94 cases and three deaths. When it comes to global pandemic management, it certainly helps being an island nation in the middle of an ocean. But Antigua and Barbuda's success in fighting the virus is so much more than good geographic fortune. "Our health infrastructure has been so robust that we have been able to control domestic spread," says the Prime Minister, although the country was one of the first in the Caribbean to re-open its borders, accepting flights from the United States, Europe and Canada. This was a conscious decision, says the Prime Minister pointing out that social distancing, contract tracing, as well as the requirement for all arriving travellers to produce a negative Covid-19 test were just some of the measures that the country introduced to prevent a public health crisis. Equal emphasis has been placed on expanding healthcare infrastructure. The number of hospital beds per 1,000 population has been increased from two to three during the pandemic by establishing mini-hospitals in addition to the main hospital in St. John. An Infectious Disease Centre has also been established. "We now have in the region of 50 ventilators, which we believe is enough to treat people who become critically ill from Covid-19," says Browne. Prior to Covid-19, healthcare was already one of government's top priorities. A bespoke kidney transplant facility and a new cardiac unit are currently being built, while the country also has a hospital offering stem cell therapy, as well as a cancer centre. Given this recent investment, Browne thinks "Antigua and Barbuda today has one of the most modern healthcare facilities in the Caribbean".
Rise in Interest
The island's effective response to the pandemic has been recognised by high-net-worth individuals from around the world. Charmaine Donovan, CEO of the Citizenship by Investment Unit, says that her unit has seen a surge in the number of inquiries from persons seeking safer, less densely populated options, and countries which have demonstrated a greater ability to manage the pandemic. "Applications from the traditional jurisdictions have been consistent, however, particularly for 2020, we have noticed an increase in applications from Southwest Asia, Africa and the Middle East," says Donovan. In the second quarter of 2020, the CIU experienced a slight dip in applications as a result of the pandemic. Potential applicants found it difficult to access agencies and authorities which generate original documents that are critical to the due diligence process. However, according to Donovan, interest and inquiries have seen a sharp increase since the global lockdown. Meanwhile, the CIU has made best use of its Agent's online portal that was launched at the beginning of 2020 to enhance efficiency and ensure a shorter turn-around time of applications. The portal enables agents to upload, submit and track applications on behalf of their clients. Documents required for the application process were also simplified to make the whole process smoother. The electronic submission of application is now a permanent feature of the programme.
Remaining Attractive
The country is doing its utmost to remain attractive for high net- worth investors while mobilising capital to be used for social services, constructing infrastructure and supporting its private sector. "Our programme has the most diverse investment options through which individuals can apply for citizenship. For example, it is the only programme in the region which offers a business investment option," explains Donovan. Through this option, applicants can invest in existing business opportunities or new ventures. The government has been encouraging investment in agriculture, agro-processsing, manufacturing, technology and other economically viable industries to support the nation's development goals. Donovan also points out that Antigua and Barbuda is currently one of the most attractive choices for large families. In May 2020, fees for those contributing to the country's University of West Indies Fund (UWIF) have been reduced; however, only families of at least six members are eligible for this investment route. Applications under the UWIF option entitle one member of the main applicant's family to a one year scholarship at the University of the West Indies. Shortly, applicants will also be able to pay their CIP contributions in cryptocurrencies. In the summer of 2020, Antigua and Barbuda established a regulatory regime for digital assets business, which paved the way for the shift to cryptocurrencies as a payment method for the CIP. Prime Minister Browne believes that cryptocurrencies will help speed up the transaction process and lead to a more efficient payment system. "This in turn will enable us to process applications in a very efficacious matter. One of the problems that we have in the Caribbean is that the due diligence on the source of funds is often extremely slow and could take many months. This frustrates applicants at times, and we believe that the cryptocurrency framework will solve this problem." Besides, it also addresses correspondent banking issues that plague the Caribbean region.
Caribbean Cooperation
Increased cooperation among Caribbean CIP countries will likely play a key role in ensuring the industry has a bright future. The CIP programmes in the region have long been very price-competitive. Prime Minister Browne stresses that he does not want to become engaged in a price war because "it will just reduce the effective yield and it will undermine the integrity of the CIPs within the respective countries". He is in favour of some level of harmonisation, especially when it comes to due diligence and the sharing of information. He says he would also support a coordinated move to raise the prices of the Caribbean programmes. Greater cooperation among Caribbean CIP nations has long been on the cards. The Organisation of the Eastern Caribbean States (OECS) has established a taskforce devising the way forward two years ago. While a common CIP maybe somewhat of a long shot, Ambassador Colin Murdoch, Commissioner to the OECS for Antigua and Barbuda, expects "the implementation of some confidence building measures" and some direction on future cooperation by the end of 2020.
Promoting Dialogue
The OECS is also instrumental in addressing the concerns of international bodies such as the EU and the OECD. "We know that these organisations have concerns about CIPs. We do not disregard these concerns, but we believe many of them are based on misunderstandings," Murdoch says. "Our CIP programme cannot be used to circumvent the Common Reporting Standards, it cannot be used to evade EU taxes. I think we need further dialogue to clarify some of these matters." He believes there is "good prospect for dialogue", highlighting that the OECS already had meetings with mid-level EU officials. For the Caribbean nations it is important that all countries operating CIPs are on a level playing field. "We do not want that the CIPs of EU member states are treated differently than ours," he says. Murdoch also stresses that there's a willingness to make legislative changes in case of ambiguity. Antigua and Barbuda, for instance, amended its legislation to "make it very clear that a CIP cannot be used to evade taxes due in another country".
Caribbean Living
Many in Antigua and Barbuda feel that the pandemic has created conditions of increased demand and that the time has come to create genuine interest in the Caribbean nation by offering multiple opportunities to live and work in the country. Although it is not as popular and well-known as the island's citizenship programme, Antigua and Barbuda's permanent residency programme has been in operation for a much longer period than the country's CIP. It provides interested persons with the opportunity in the country requires a pathway to citizenship and a much lower annual contribution threshold. In addition, a digital nomad visa has been launched in the summer of 2020. This, however, will not provide a pathway to citizenship, but the expectation is that it will prove attractive to the growing number of location-independent workers. While many argue that long stay residents could compensate for the loss in tourism revenue, interest in, and uptake of, these new visas remains to be seen.
Regional Economic Leader
The big opportunity for Antigua and Barbuda is in truly diversifying its economy. The country strives to become the financial capital of the region, especially in the cryptocurrency and blockchain space, but it is also looking at fostering new ventures in agriculture, light manufacturing and in the knowledge industries. Green energy, high-end tourism, medical cannabis and medical education are also high on the agenda. "The vision is to turn Antigua and Barbuda into one of the most attractive island nations for investments in order to increase our GDP rapidly, create jobs and improve the living standards for the people of Antigua and Barbuda," says Prime Minister Browne. It goes without saying that the CIP will play an important role in facilitating this transition.