Your Professional Certification Partner


About IMC Education and Training
(IMCET )
IMC Education & Training is the division within the Investment Migration Council which has been mandated with the responsibility to create training programmes for those working in or associated with the IM sector.
These courses and qualifications are designed to enhance the technical knowledge, competencies and expertise for advisors, agents, lawyers, programmes staff and others working in the sector.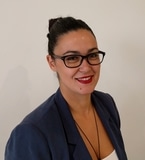 Marie Lou Cutajar
Education & Training Administrator
Marie Lou acts as the point of contact within the IMC for all training related enquires. She is responsibile for the day-to-day co-ordination and administration of the training programmes, making sure that all those who enrol for the course have the assistance they require.
IMC Education & Training: The Objectives
Key Features of the Education and Training Regime
Delivery of practical knowledge, skills and competency at multiple levels
Benchmarked against global educational standards
Courses and training delivered online via Learning Management System (LMS)
Comprehensive support material that includes:

Module manuals
Case studies and examples
Interactive e-learning modules
Certification in Investment Migration
100% Online Course

Around 25 Hours of Total Study Time

5 Modules available upon registration

2 Hour, Online 100 Multiple Choice Test

70% Pass mark

'IMC Certification in Investment Migration' awarded

Designation Cert(IM) after successful completion
The course has been very successful amongst practitioners working in the IM sector. However we are well aware that busy work schedules can be challenging for someone who wishes to upskill their sector knowledge. This difficulty has now been addressed by the launch of a new flexible study format which includes the option to register for modules individually as well.
Design your own Certification
IMCET's training portfoilio consists now of 7 Modules, from which one can choose to create their own version of the Certification. Also one can choose to register for Modules individually over a period of time. Once 5 Modules are completed, these will be converted into the designation Cert (IM) and will then be considered a certified IM practiotioner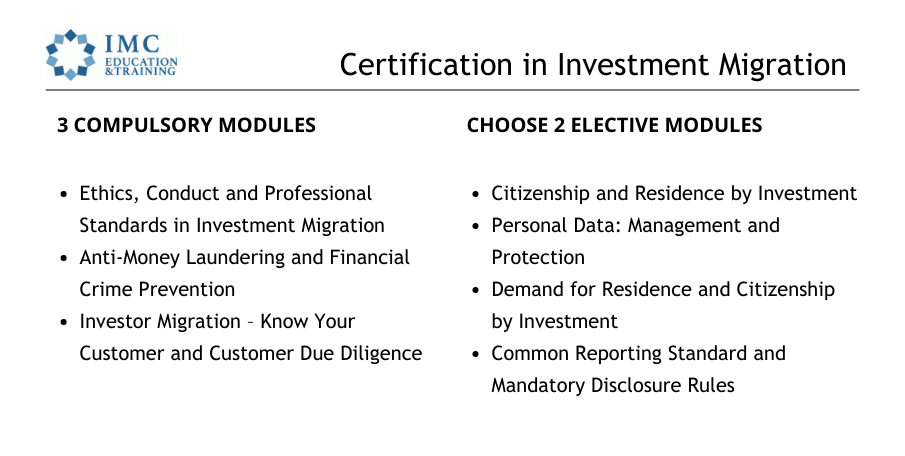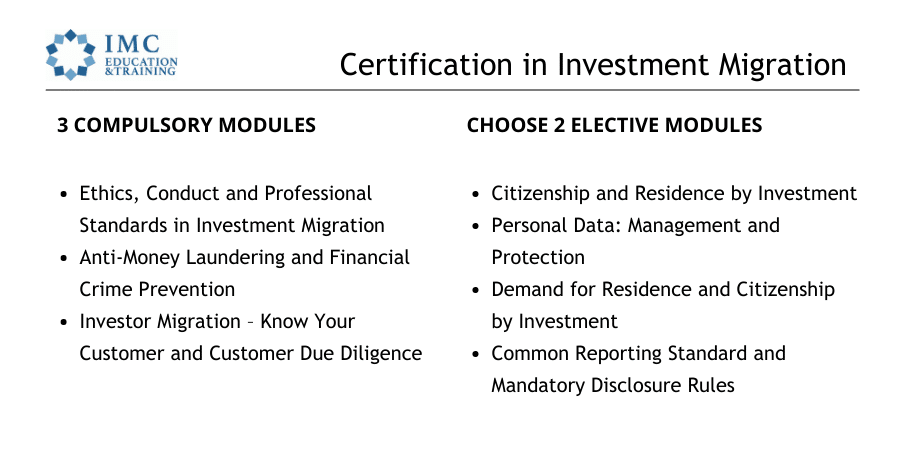 Citizenship and Residence by Investment
IM – Know Your Customer and Customer Due Diligence
Ethics, Conduct and Professional Standards in Investment Migration
Personal Data: Management and Protection
Common Reporting Standard and Mandatory Disclosure Rules
Anti-Money Laundering and Financial Crime Prevention
Demand for Residence and Citizenship by Investment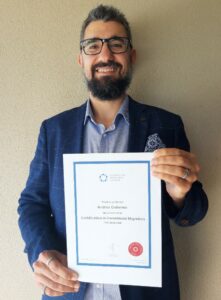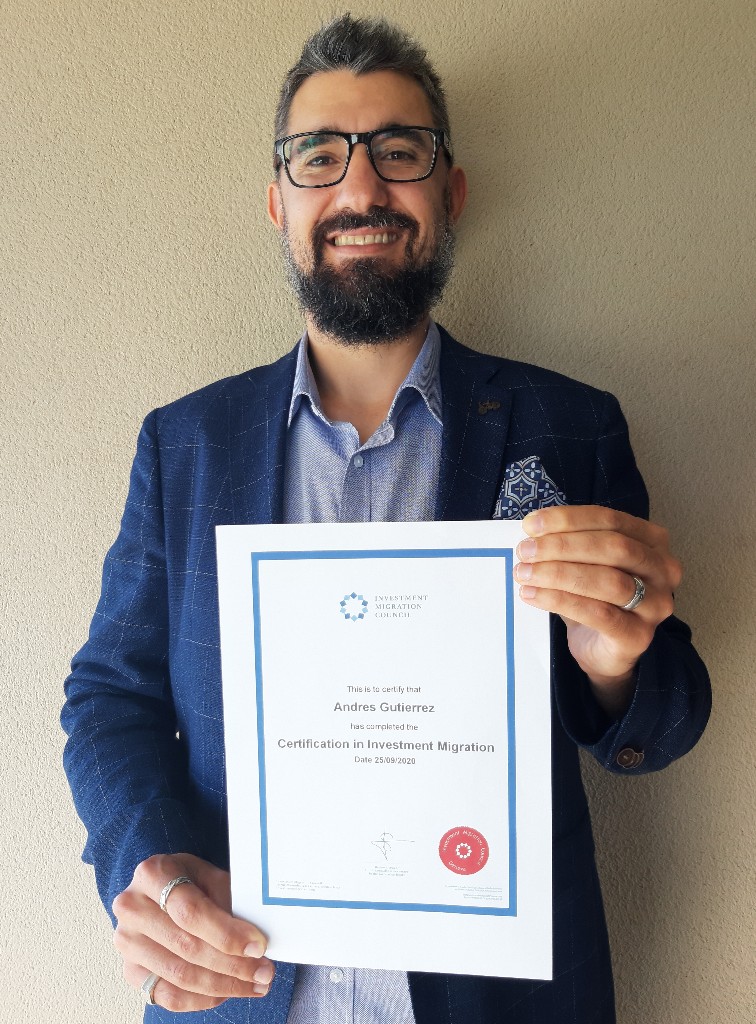 "The Certification in Investment Migration is a must for all practitioners, regardless of the level of expertise in the field. Very well structured, easy to follow and flexible to study it gives a practical insight in many areas which are key to the industry. "
– Andres Gutierrez, Cert (IM),
CSB Group, Malta Sotheby's International Realty
"A great learning experience with the Investment Migration Council. Thank you IMC for providing a course which provides an in depth knowledge in Investment Migration."
–Varun Singh
XIPHIAS Immigration Pvt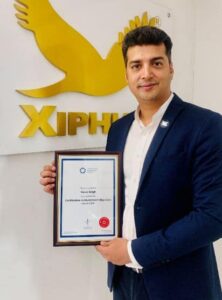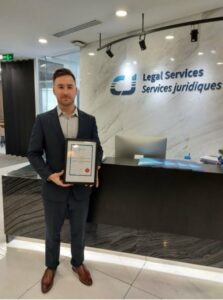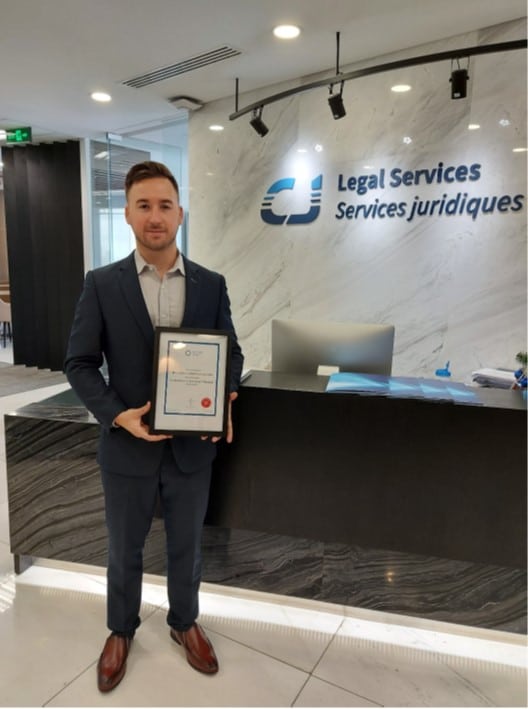 "The certification in investment migration created by the IMC is relevant and thorough. It provides us, legal practitioners, with guidance and insight to help tackle challenges we are often faced with. I highly recommend this entry course to all industry stakeholders."
-Pierre Etienne Balthazar Lacasse,
Lawyer at CJ Legal Services Vietnam)
"I really liked the course and learned about the policies on Due Diligence that are not known in China. It includes the key learning elements that people simply are not picking up anywhere else.
A very good overview. An excellent course and I was really happy with it."
– Jusztina Rebeka Juhasz