The IMC Education & Training unit is delighted to announce the very first investment migration behavioural science executive educational workshop. The psychosocial training is a 3-part hands-on & part seminar experience derived from game theory developed by economists, psychologists, sociologists and mathematicians. The sessions are split over 2 days, between the 11th & 12th of December 2023, and a follow-up session will be held online 4 weeks after.
During the workshop, participants will engage in an analog simulation (role-play) that challenges them to profitably manage the socioemotional dynamics of a series of coordination activities that enables them to learn a great deal about both their own and other group members' relational styles.
Through analog simulation, participants have the opportunity to experience with emotional vividness the crucial dilemmas that characterize their own interactions with others. Dilemmas such as: trusting or not trusting, being open or closed to change, holding grudges or forgiving, cooperating or competing, winning or excelling, attacking or defending, building or sharing, simplifying or aggregating, being proactive or wait-and-see, being optimistic or realistic, being a visionary or centered in the present, being selective in relationships or inspired in relationships.
After the simulation, fundamental principles for reenergizing one's professional well-being and mitigating and defusing regressive traps are disclosed in an engaging and entertaining manner. Principles such as adopting a forward-looking rather than "present biased," enterprising rather than bystander, mature rather than unconscious, contributive rather than defensive, biased positive rather than neutral, grateful rather than self-referential, conciliatory rather than retaliatory, and responsible rather than reactive attitude.
Orientation toward convincing and influencing
Decision-Making in Critical Social Situations
Tolerance towards Vulnerability and Uncertainty
Positive Social Attitude
Openness to Change
Proactiveness & collaboration
Management of fear of loss
Overcoming conflicts
Awareness of one's relational "code" and its effects on others
Individual Practitioners
Law Firms
Accountancy Firms
Corporate Service Providers
Academics
Governments
Specialised Service Providers
Wealth Managers
Family Offices
Private Bankers
Migration Agents
Due Diligence Providers
The Workshop is accredited with Continued Professional Development (CPD) hours by the CPD certification service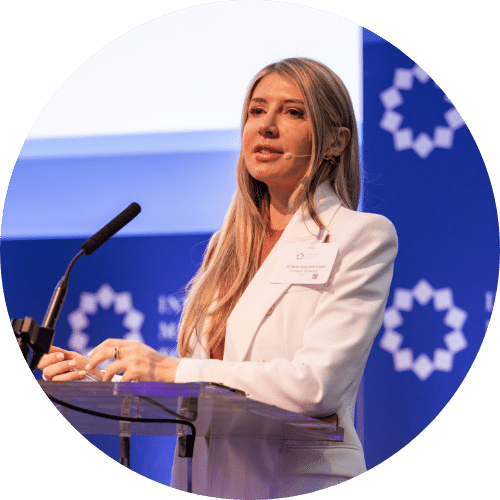 Lecturer at University of Padua (Italy) & Ca Foscari (VE)
Monday 11th December
13:30- 14:00 - Welcome Coffee at the Mezzanine Foyer (if you are unable to check-in, we will keep your luggage for you)
13:55- 14:00 - Opening Remarks by the IMC
14:00- 15:30 - Session 1 starts in Ring 1 Meeting Room: Setting the stage
Introduction to the key concepts of "game theory" and their power in explaining crucial elements of social and organizational interactions. Participants will be asked to take part in some live demonstrations of the key concepts discussed to make them more vivid. The first part of the morning session will end with a go-around where participants will get a chance to discuss the particular challenges they face and a creative board will be constructed with the feedback to highlight key/ common areas of interest.
15:30 – 16:00 - Coffee Break (if you haven't checked in, this is a good opportunity for you)
16:00 – 18:00 - Session 2 starts: Simulation
Participants are split into two groups where they will play X number (TBA) of rounds of a specialised version of the "Prisoner's dilemma" against the other team. This simulation mimics a number of real-life interactions where there are monetary rewards and punishments for our behavior and interactions with others. During this simulation, participants will face and make critical social choices with their teammates and they will have to try to balance issues like: cooperation, mediation, competition, and trust while trying to maximize one's payoff from the game. This part of the session is very animated as participants will get a chance to see and examine their own and others intergroup dynamics in a very raw and real fashion.
18:00 - The session will end with a Drinks Reception at The Lobby Lounge & Bar, Palais Hansen Kempinski with canapés and mulled wine.
19:00 - Walk to the renowned restaurant Plachutta Wollzeile where delegates will be treated to a traditional Viennese 3-course meal with half a bottle of wine, mineral water, and mineral water.
22:00 - Return to respective hotels
Tuesday 12th December
07:30 – 08:00 - Welcome Coffee at Mezzanine Foyer
08:00 – 10:30 - Session 3 starts: Debriefing
Shared exploration of the elements that created or destroyed value and well-being of the teams and individuals during the crucial phases of the simulation. Discussion of the common pitfalls they fell prey to in their interactions within their group and in their interactions with the other group.
10:30 – 11:00 - Coffee Break with sweet and savoury bites, hotel check out for delegates staying at the Palais Hansen Kempinski (delegates can keep their luggage in the training room)
11:00 – 12:30 - Session 4 starts: Evolution
Integration of the tools and attitudes for ongoing implementation of the simple and fundamental principles of "Professional Evolution". Discussion of the feedback provided by participants via the creative board.
12:30 - End of training
While you are in Vienna, we encourage you to explore the nearby market, Rathaus Christkind Markt, which is brimming with local flavor. Should you decide to have lunch there, the choice is entirely yours. Please be aware that lunch at the market is not covered by the delegate rate. We respect the unique itineraries of each participant.
Wednesday 10th January
Online follow-up with Sibylla Verdi (date to be confirmed)
This unique one-of-a-kind behavioural science workshop includes all of the following:
2-day workshop with renowned international trainer Sibylla Verdi from the University of Padua at the delightful 5-star Palais Hansen Kempinski
Welcome coffee with a variety of sweet pastries
Warmly Welcome Reception with homemade canapes
Locally sourced 3-course dinner in a reserved private area at Plachutta Wollzeile with premium Austrian wines, mineral water and coffee
Public Price: €1,800*
Special Price for IMC Members & IM Certified Practitioners: €1,350*
*Maltese billing details and EU billing details without a VAT number will be added 18% VAT.
Terms & Conditions:
Reservation Modification:

Name change is permissible at no extra fee.

No Refund Policy:

Registrations are not refundable.
We have negotiated a special rate at the 5-stars Palais Hansen Kempinski, Vienna at €335 per night for single occupancy. Room rates are calculated per room and per night - including VAT, city taxes, service charges, and buffet breakfast. Supplement for double occupancy is €30 per night.
The rate also includes:
Buffet breakfast
Complimentary soft drinks, and fruit juices in the hotel minibar
Complimentary bottle of water for your refreshment every day in your room
Complimentary high-speed WiFi access, in all hotel areas
Free access to Kempinski "The Spa"
24/7 free access to the gym
Daily turndown
Please note that we have only been able to secure 10 rooms at this special rate. Book your room before Sunday 12th November to benefit from this rate.
To book a room, please click the button below to send an email to Estelle, our Head of Stakeholder Concierge.
Discover the Local Market:
While you're with us, we encourage you to explore the nearby market, Rathaus Christkind Markt, which is brimming with local flavor. Should you decide to have lunch there, the choice is entirely yours. Please be aware that lunch at the market is not covered by the delegate rate. We respect the unique itineraries of each participant.